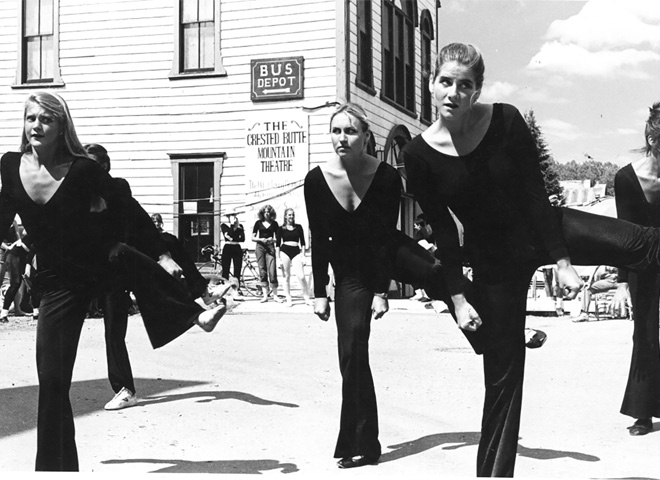 50 years of the Crested Butte Arts Festival
Supporting Crested Butte's creative culture since '71
[  by Kendra Walker  ]
For 50 years, the Crested Butte Arts Festival has been leading the charge to ensure a healthy creative culture in the Gunnison Valley. The Crested Butte Society launched the first Crested Butte Arts Festival in 1971, with the intent to provide Crested Butte's local creatives a place to display their work, sell their wares and to make a living.
"Here we are in this beautiful place, where artists are naturally attracted to coming here because of the incredible inspiration the location gives them," says Crested Butte Arts Festival executive director Chelsea Dalporto-McDowell. "But back then artists were so far away from places where they could actually sell their items. The Arts Festival was created to help these local artisans create a living from their craft."
The festival began on a much smaller scale than the well-oiled operation every first weekend of August that we know it as today. The year was 1971 and about 20 local artists came to display their art. "Some people didn't even have tents, they just put their wares along the street with blankets and called it good," says Dalporto-McDowell. 
For that first year, a group of local hippies constructed a large, shaded wood structure in what is now the Post Office parking lot for the event. In the years following, the festival setup evolved from a line of green army tents down the center of Elk Avenue, to homemade shelters and tarps, to the tent/booth setup we recognize at the event today. 
In 1973, a group of local wood carvers came together to carve the totem pole that now stands in Totem Pole Park. Artists included Denny McNeill, Bill Folger, Jim Cazier, Barbara Sibley and Jim Wallace. 
Entertainment was also an important aspect of the festival from early on, with performances from the Crested Butte Mountain Theatre and live music. Organizers brought in such musicians as country rock artist Michael Martin Murphy and blues rock guitarist Bonnie Raitt. In an excerpt from the August 2, 2002 Crested Butte News, George Sibley, the festival's organizer at the time, recalls a local band performing in 1973: Most remembered by attendees that year however is the local band "Jelly" who rocked out the town park with lyrics that entertained and offended the hundreds in town for the festival. "They were pretty raucous," Sibley says. "And not exactly PG-17 or whatever. They were pretty loud too."
The festival did not take place in 1974, due to the overwhelming planning efforts the first few years. "The town wasn't really up to handling the numbers that showed up for that," Sibley says. "After that, everyone was either scared or mad. There was no arts festival the next year. No one else wanted to do it."
However, by the late 1970s the festival found its groove and formed a panel of judges to select the participating artists, instigating a higher standard of art that showed up. 
"We started out as a small craft festival with hippies selling pottery and beaded jewelry, and over the years we have really evolved into a world-class fine arts event," says Dalporto-McDowell.
Despite the festival's progression from its humble beginnings into one of the most competitive juried art shows in the West, 50 years later the organization's mission remains the same: to support the arts of the Gunnison Valley and ensure they thrive in our community. 
Each year, the Crested Butte Arts Festival organization holds a grant cycle in which individuals and organizations can apply. "Twenty percent of our proceeds go back into the community, into funding our creative culture," says Dalporto-McDowell. "This year we will be able to put $10,000 just back in grants." The organization has funded a wide range of projects, from local art workshops, to local art installations, to Crested Butte Community School Enrichment Program activities. "We tend to fund projects that have the most positive impact for our community," says Dalporto-McDowell. "If you've got a creative idea you want to put into place, let's do it." 
The festival's $5 ticket price was first introduced for last year's 2021 event, and Dalporto-McDowell explains how much it helps the organization continue its mission in supporting the artistic community. "I hope people can view the ticket price more as a donation to the arts and to the creative culture of the Gunnison Valley, because that's what it's is all about."
This year as the Crested Butte Arts Festival celebrates 50 years on August 5-7, the event is designed with all levels of art enthusiasts in mind.
"Our real focus this year is around the experience, the experience for everyone, not just someone coming to purchase a $10,000 piece of art, not just someone interested in the family activities for their kids. Anyone with any level of art enthusiasm will see themselves inside our event and have a place here," says Dalporto-McDowell.
While the festival has historically taken place along Elk Avenue, it is now located at the Crested Butte Community School grounds, a move that also happened last year.
"Moving off of Elk Avenue was heartbreaking in some ways because the downtown area really beautified our event. We really had to stop and ask; how do we ensure the romanticism of the event stays strong? People come to the festival not just because of the art, but the way the art is displayed with our town's beautiful charm and backdrop," says Dalporto-McDowell. 
However, she also sees endless potential with the new location. "We have so many more opportunities in this new location. We're working really hard to recreate that beautiful experience in a new way. Patrons will feel that in the aesthetics of the event. When you walk through the gates it's going to feel artsy."
The festival also plans to honor its 50 years of history with displays highlighting its beginnings and the event over the years. Dalporto-McDowell explains that she's learning so much through the oral histories from Crested Butte old-timers. "It's so cool that we're able to connect with people on this and learn so much about it from different perspectives." 
Art
This year, the festival will feature more than 100 juried world-class artists from 12 fine art categories. According to Dalporto-McDowell, the organization receives about 500-700 applicants each year and a five-man jury reviews and selects the artists.
"This is the best of the best," she says. "I'm really excited to showcase these artists, about 30% are familiar faces from previous years and the rest are new. We also have about six local artists that will be on display."
Dalporto-McDowell is also looking forward to bringing back the festival's artist demonstrations this year, which was not part of the last couple years due to COVID. "We're so happy to have this experience back, the artists love to showcase their creative process to the community," she says. "It adds so much to the interactive element of the weekend for both our artists and guests."
Additionally, the event will hold its annual art auction, where each juried artist donates an item for the auction and 100% of the proceeds will go back into the organization's arts funding. "Every cent goes directly back to our mission of providing arts outreach in the Gunnison Valley," says Dalporto-McDowell.
Entertainment
For this year's children's art alley, the organization has teamed up with two of its grant recipients, the Trailhead Children's Museum and the Wheels of Intention artist group, to lead educational and interactive family activities throughout the weekend.
"Our art alley is another place folks can see our mission being proliferated," says Dalporto-McDowell. "We funded both of those groups this year and invited them to come participate in the festival with fun and engaging, creative experiences for our families."
Another staple of the Crested Butte Arts Festival weekend is the local live entertainment. "Funding local performers is a huge part of this, and we'll have two full days of entertainment on the stage," says Dalporto-McDowell.
The festival will also have a culinary court and dining tent, where guests have an opportunity to sit down, escape the weather and enjoy a plethora of food truck options. "I'm really looking forward to our food offerings this year," says Dalporto-McDowell. "We are going to have better food and more food trucks than in years' past."
Waste-free
The Arts Festival is also making a strong push to be a waste-free, sustainable event. "We feel very strongly about this and we're making significant steps to ensure that we're not just coming in and walking away with a bunch of trash," says Dalporto-McDowell.
The organization has teamed up with Sustainable Crested Butte, who will help educate guests on how to dispose of waste correctly at the event. The festival plans to use all reusable materials in the VIP house for the artists and sponsors, and will have a new festival app to eliminate print material.
"We also received a grant from the town of Crested Butte for this initiative to green our event," says Dalporto-McDowell. "They have a really robust waste-free initiative and I'm grateful they are helping us implement it at the festival."
Dalporto-McDowell also notes that volunteers are always needed for the show to go on. She welcomes all hands on deck to help make the festival weekend a success. "Our volunteers are the heart and soul of the weekend. We could not do it without them." 
Looking ahead, Dalporto-McDowell hopes to continue expanding the Crested Butte Arts Festival. She envisions more interactive art installations and night experiences that inspire and create new ideas for festival goers. "We have all kinds of new room at this location at the school and we plan on building upon that concept each year to offer more interactive art. It feels like the sky's the limit for the kind of installations we can bring in. That's my dream for the years to come."
She attributes the festival's 50 years of success to the overwhelming support from the community, including the organization's board members, business sponsors, attendees and volunteers. 
"These people are such a big part of us doing what we are able to do." We would not be able to put this on without the support from the community. It's a huge deal and we are so grateful." 
The Crested Butte Arts Festival takes place August 5-7, 2022. For more information and to reach out about volunteering, visit www.crestedbutteartsfestival.com.