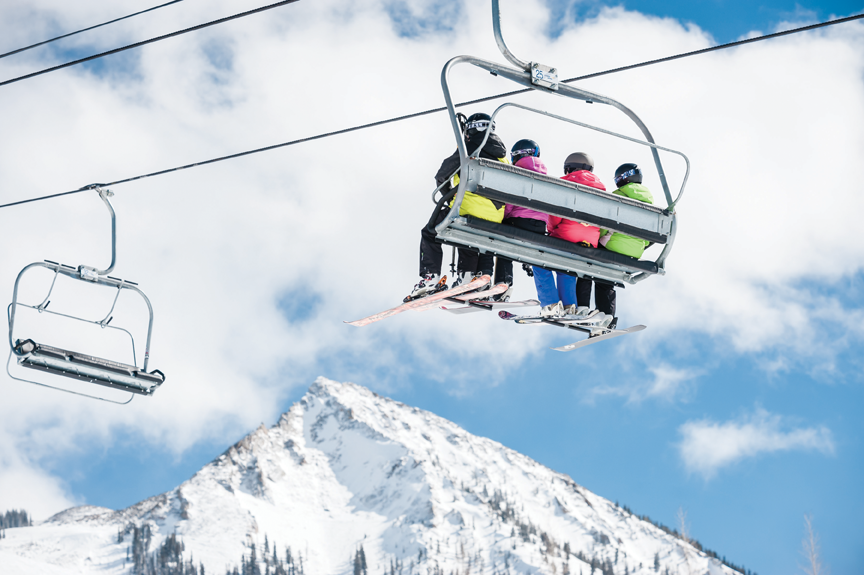 Activities Guide 18/19
Action adventures Snowmobile Tours
Action Adventures High Adventure Snowmobile Tour combines spectacular scenery with a fast, aggressive ride. This tour includes quickly paced trail rides through the Gunnison National Forest, as well as off trail powder riding in the open powder fields of Splains Gulch. Plenty of play time and play areas on this tour! We have been an authorized permitee of the US Forest Service for over 30 years in Crested Butte, and our guides are all local professionals who know where all the best riding spots are located. Slopeside at the base of the Ski Area next to the Tubing Hill. (970) 349-5909.
Adaptive Sports Center
The Adaptive Sports Center (ASC) is a nationally-recognized non-profit organization that has provided life-enhancing outdoor recreation to people with disabilities and their families since 1987. This winter we offer the following instruction for groups, families and individuals: alpine and Nordic skiing, snowboarding, ski-biking, snowshoeing, ice climbing, and other custom-tailored adventures. Reservations are recommended for all activities. Lessons are taught by PSIA adaptive certified instructors. ASC serves children and adults with cognitive and physical disabilities, as well as at-risk youth. ASC's offices are located in the Treasury Center on Mt. Crested Butte. For more information about activities and special events, or to register, call (970) 349-2296, email info@adaptivesports.org or visit www.adaptivesports.org.
Adventure Center
(844) 295-7755. Mountaineer Square, Mt. CB Base Area. The one stop shop for all of your vacation needs. Purchase lift tickets and passes, or sign up for Ski and Ride School lessons in one convenient location.
Adventure Park
(970) 349-2211 . Mt. CB Base Area. Don't miss the base area Adventure Park complete with year-round mini golf, POWERADE® bungy trampolines and climbing wall! Get everything from single activity tickets to unlimited Adventure Park access at the Adventure Center in Mountaineer Square. Activities are weather dependent.
Big Al's Bicycle Heaven
Big Al's Bicycle Heaven is a locally owned and operated bike shop in downtown Crested Butte. What do we do in winter, you ask? We rent Fat Bikes! Come see us at Big Al's and our friendly staff will help you get geared up to experience the newest winter sport of Fat Biking. Big Al's Bicycle Heaven is located at 207 Elk Ave, (970) 349-0515, or
www.bigalsbicycleheaven.com.
Burt Rentals Snowmobiling
Voted Crested Butte's favorite snowmobiling company since 1983. Back by popular demand our Snowmobile Zip Line combo tour. Hourly, half-day and sunset tours. Play areas on every tour. Tours for every ability level – from mild to wild. Burt Rentals is an authorized permittee of the US Forest Service. Slopeside at the base of the Ski Area next to the Tubing Hill. (970) 349-2441.
Butte & Co. Ski & Snowboard Rentals
For over 40 years Butte & Co. Ski & Snowboard Rentals has stood the test of time as Mt. Crested Butte's premier, locally owned ski and ride shop. Butte & Co. offers its guests a phenomenal rental shop experience with skis and snowboards from Atomic, Head, and K2. Available this year, is a state of the art demo fleet with the very best in equipment from Dynastar, Volkl, Icelantic, Faction, K2, and Salomon all mountain skis, and sweet snowboards from Arbor and Never Summer! Reserve in advance www.crestedbutteskirentals.com and save 20% on your rentals. Kids 12 & under save 50% with each paying adult. Bring your skis into our Montana tuning shop for a Crystal Glide Tune! Keep the whole family warm and stylish with outerwear from Holden, Alp-N-Rock, Spyder, Obermeyer,, Armada, and Picture Organic. See why Butte & Co. was voted one of North America's top shops by Skiing Magazine. (970) 349-7581 or (800) 742-SKIS. Shop and rent LOCAL!!
Camp CB Kids' Ski & Ride School
(970) 349-2211 . Whetstone Building, Mt. CB Base Area. Camp CB is home to the Kids' Ski and Ride School. Camp CB is the place for youngsters to connect with the outdoors, other children and fun-loving instructors. Group and private lessons are available for all ages and abilities. Evening programs and nursery (two months and up) are also available.
CB South Fitness
CB South Fitness is a key card access gym in Crested Butte South. Members have daily access from 5am – 10pm. We have a variety of strength and cardio equipment available, including the Peloton bike. Memberships available on a weekly, monthly & annual basis. Discounted business pricing and punch cards also available. Individual and group personal training sessions. Visitors and locals welcome! Call with questions or to join. Visit
www.CBSOUTHFITNESS.com, find us on FB and IG, or call (970) 765-7009.
CBMBA
The aspen trees rise high above while downy snowflakes fall all around you. The scent of pine fills the crisp air, and beneath your feet, a well-groomed trail makes it easy to get into the backcountry. Whether you're fat biking, snowshoeing, cross-country skiing, or walking, winter trails provide free opportunities for recreation for everyone. The Crested Butte Mountain Bike Association (CBMBA) grooms winter trails for the public in several locations: Gothic Road, Cement Creek Road, at the base of Snodgrass Mountain, and more when conditions allow. Winter trails offer you a chance to play, get exercise, explore on a day off from the slopes, or simply marvel at the snow-capped peaks that surround CB! Keep up with all winter trail conditions and reports via cbmba.org or follow us on Facebook for the latest events and updates.
Center for the Arts
The Center for the Arts is home to popular signature events and a wide variety of indoor and outdoor attractions. Visitors young and old enjoy a year-round schedule of live music, dance and theater performances as well as art exhibits, monthly film offerings, visual arts workshops, speakers and much more. As the premier visual and performing arts venue in the region, The Center for the Arts hosts events throughout the year on our outdoor stage, expansive indoor auditorium, and at the Piper Gallery, a popular in-house gallery for local and regional exhibitions. In addition to our popular signature events, including Alpenglow, Tour de Forks, Crested Butte Wine & Food Festival and Winter Season, the Center also proudly serves as a premier events venue for local community organizations. Together, we bring attractions such as film screenings and music festivals to Crested Butte. www.crestedbuttearts.org. (970) 349-7487.
Crested Butte/Mt. Crested Butte Chamber of Commerce Visitor Centers
Are you looking for information on what to do during your stay in the Crested Butte Area? With two winter locations, the Chamber of Commerce Visitor Centers are a great resource for shopping, dining, and area activities. Our Crested Butte Visitor's Center is located at the Four-Way Stop in Crested Butte (at the corner of 6th and Elk Ave) and is open 7 days a week from 9 a.m. – 5 p.m. Our Mt. Crested Butte Visitor's Center is located in the Transit Center of Mountaineer Square, and is staffed 7 days a week from 9 am – 5 pm, with brochures accessible from 7 am – 11 pm. You can give us a call at (855) 681-0941 or (970) 349-6438 or visit our website at www.cbchamber.com. We also have relocation and business information available. We look forward to seeing you soon!
Crested Butte Rental & Demo Center
(970) 349-2211. Treasury Center, Mt. CB Base Area. The most convenient choice for all of your winter sports equipment. Featuring a wide selection of skis and snowboards and FREE storage with Crested Butte Mountain Resort rentals. Now home to the Burton Learn to Ride program! In addition, snowshoes and helmets are available for rent. A full-service tune and repair shop is also available onsite.
Crested Butte Ski & Ride School
(970) 349-2211. Mountaineer Square, Mt. Crested Butte. Our award winning staff specializes in ski, snowboard and telemark instruction. Private and group lessons available for all abilities. The expanded beginner area is designed to make the most of your first experience. Looking for the next challenge? CB Steep Guides are designed to open up the Extreme Limits to everyone.
Crested Butte Nordic
CB Nordic maintains over 50 kilometers of immaculately groomed trails for cross-country skiing and snowshoeing accessible from the Town of Crested Butte. The Nordic Center, located at Second and Whiterock on the bus loop, offers complete ski and snowshoe rental packages as well as private lessons, clinics, and tours. Kids 16 and under get free rentals and skiing all season long! More information can be found at www.cbnordic.org or by calling (970) 349-1707.
Elevation Spa
Come experience our world class, 11,000 sq. ft. Elevation Spa and Fitness Center at the Elevation Hotel, located just steps away from the ski slopes. There are nine treatment rooms where we offer massage therapy for your muscles, body wraps for your wellness, and facials for a beautiful complexion. All spa services include use of our fitness center, which is equipped with cardio machines and strength training equipment, a swimming pool, 3 hot tubs, steam room, sauna and tranquility rooms. Upon check-in to the spa, you will be presented with robe, sandals and locker key to use during your stay. The Elevation Spa easily accommodates you, your friends and family as you indulge together in a day at the spa. After receiving your healing treatments, you will leave the Elevation Spa with the overall feeling of wellbeing that inspired you to visit the mountains in the first place. Take advantage of our complimentary parking during your spa visit or ride the free town bus to the base of the ski area and arrive just steps away from the Elevation Hotel. Please call (970) 251-3500 to make an appointment today or visit our website at www.elevationspa.com.
Fantasy Ranch Horseback Adventures
Take a break from the ski hill and really do something to write home about. Fantasy Ranch Horseback Adventures offers relaxing one-hour afternoon horseback rides where you can slow down and enjoy a relaxing horseback ride through the snow with a stop to enjoy hot cocoa by the fireplace. We also offer a 30-minute afternoon sleigh ride where you can sit back and enjoy the surrounding beauty. For reservations please call (970) 349-5425.
Gunnison Parks & Rec
Community & Aquatics Center: Two pools, 6 lane lap and leisure pool with two slides, diving board, rope swing, and kiddie slide with water features. Climbing wall, game room, gymnasium, and gymnastic "mat" room. Check website – www.gunnisonco.gov for daily drop-in fees and current hours. Don't miss Breakfast with Santa on December 15 2018 and the Underwater Easter Egg Hunt on April 20 2019. Jorgensen Ice Arena: Skate on a refrigerated indoor rink, an outdoor covered rink, and the ever popular "Pac Man Pond." Check www.wehockey.org for current rink schedules and www.gunnisonco.gov for rink hours and drop-in fees. Don't miss the 4th Annual Holiday Skate Party on December 27. Please note all facilities are closed on Thanksgiving Day, Christmas Day, New Year's Day, & Easter Sunday.
Irwin guides
Crested Butte has long been known as a backcountry haven. With five separate drainages offering hundreds of routes, you can ski for years here and never hit the same shot twice. From open bowls, steep and secluded tree shots, to big alpine peaks, the Crested Butte backcountry has it all. Come Ski the backcountry, ride Fat bikes, Climb ice or Cat ski this winter with Irwin Guides. A plethora of AIARE avalanche courses are available through out the winter as well. Book online at our website: irwinguides.com or email info@irwinguides.com with any questions. Go with a Guide and contact Irwin Guides to have your winter adventure!
Irwin Lake Snowmobile Rentals
Unguided rentals for the do-it-yourselfer. Crested Butte's largest rental fleet. High performance sleds and two-up touring snowmobiles with heated hand grips. Morning or afternoon half-day rentals, all day rentals. Competitive rates. We deliver—no trailer needed. Slopeside at the base of the ski area by the tubing hill. (970) 349-6598.
The Trailhead Children's Museum
Explore! Create! Play! Learn! Visit The Trailhead Children's Museum to experience our hands-on creative exhibits and play for children and families. Come see our NEW facility at 16 6th Street in Crested Butte – at the Teocalli Bus Stop. Spend the afternoon creating art, engineering a tower and running your own grocery store at the Trailhead. Watch for special family events, holiday camps and winter drop-off programs. For more information please contact The Trailhead at (970) 349-7160 or visit our website at www.trailheadkids.org.
WildFlower Spa
Conveniently located in the Grand Lodge, the Wildflower Spa offers Massage and Facial treatments. Schedule a treatment today and enjoy a naturally relaxing and healing spa experience. The Wildflower Spa offers a calm environment with 4 treatment rooms where we offer Massage and Facials. We also have a couples room for side by side treatments. Each treatment is tailored to meet your needs, whether your goal is to relax, feel more beautiful, or find relief from aches and pains. Complimentary use of the steam room, pool and hot tub is included with any spa treatment. Please visit our website at www.thewildflowerspa.com to see our menu of services or call (970) 349-8063 for more information or to schedule an appointment.
Zipline Tour
(970) 349-2211. Adventure Center, Mt. CB Base Area. Take your mountain adventure to new heights this season with a Crested Butte Zipline Tour. This one of a kind adventure includes five ziplines ranging in length from 120 – 400 feet connected by features such a suspended wooden bridges and towering platforms.