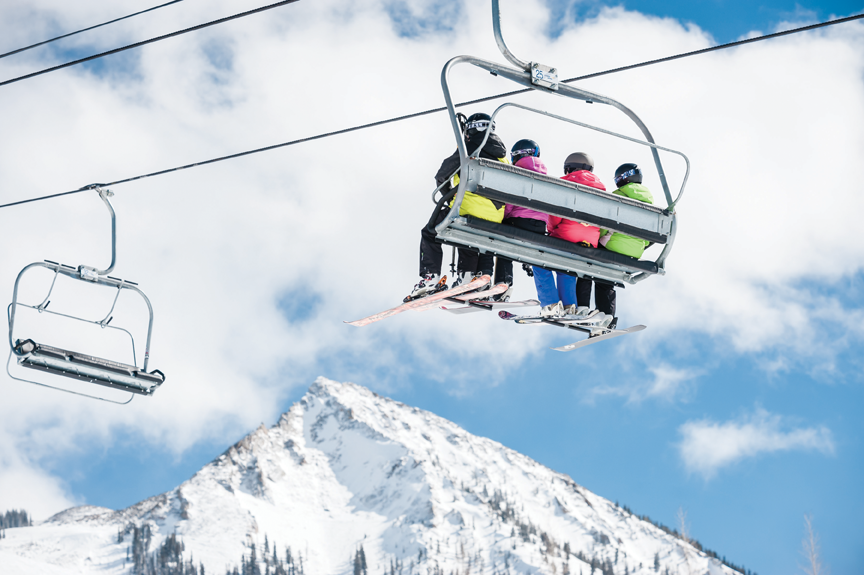 Stats:

467

0

Posted:

November 30, 2020

Category:

What To Do
Activities guide
Action Adventures Snowmobiling
Action Adventures High Adventure Snowmobile Tour combines spectacular scenery with a fast, aggressive ride. This tour includes quickly paced trail rides though the Gunnison National Forest, as well as off trail powder riding in the open fields of Splains Gulch. Plenty of play time and play areas on this tour! Want even more? Check out our "Crested Butte Experience – Half Day Combo Tour" which combines our High Adventure Tour with the Top of The Rockies tour provided by Burt Rentals. We have been an authorized permittee of the US Forest Service for over 35 years in Crested Butte, and our guides are all local professionals who know where all the best riding spots are located. Slopeside at the base of the Ski Area next to CB Burger Co. (970) 349-5909.
Adaptive Sports Center (ASC)
The Adaptive Sports Center (ASC) is a nationally recognized non-profit organization that has provided life-enhancing outdoor recreation to people with disabilities and their families since 1987. We are located at the base of Crested Butte Mountain Resort in our new world-class facility. We welcome individuals, families and veterans to join us for alpine and Nordic skiing, snowboarding, ski-biking, snowshoeing, and other custom-tailored adventures. Lessons are taught by PSIA adaptive certified instructors and registration is suggested a minimum of 2 weeks ahead for all activities. We are located at 19 Emmons Road in Mt. Crested Butte. For more information call (970) 349-2296, email info@adaptivesports.org or visit
www.adaptivesports.org.
Big Al's Bicycle Heaven
Big Al's Bicycle Heaven is a locally owned and operated bike shop in downtown Crested Butte. We have an extensive rental and demo fleet with bikes for the whole family. Our experienced service department is always ready to get you back on the trail quickly. Come see us at Big Al's and our friendly staff will help you find the gear and information you need to explore the extensive biking in Crested Butte. Big Al's Bicycle Heaven is located at 207 Elk Avenue, (970) 349-0515, or www.bigalsbicycleheaven.com.
Burt Rentals Snowmobile Tours
Our Top of the Rockies Tour is by far Crested Butte's most popular snowmobile excursion. Permitted by the US Forest Service for over 32 years in this location, we are the only snowmobile tour company allowed to operate in the Irwin Lake area of the Gunnison National Forest. You will enjoy the spectacular mountain scenery of the Ruby Range, as well as have the opportunity to see Lake Irwin, the Wilderness Family Movie Cabin, and the world-famous Irwin Lodge and their SnoCat Ski Terrain. Ideal for all ability levels, families, single and double riders, and those looking for a relaxed paced scenic tour. Private Guide option now available for this tour for those who prefer their own group, or who might want to see the spectacular scenery of this area at a quicker (or slower) pace. Slopeside at the base of the Ski Area next to CB Burger Co. (970) 349-2441.
www.burt-rentals-snowmobiling.com.
Butte and Co.
For over 42 years Butte & Co. Ski & Snowboard Rentals has stood the test of time as Mt. Crested Butte's premier, locally owned ski and ride shop. Butte & Co. offers its guests a phenomenal rental shop experience with skis and snowboards from Atomic, Head, and Salomon. Available this year, is a state-of-the-art demo fleet with the very best in equipment from Black Crows, Atomic, Icelantic, Armada, Line, Elan, Faction, and Salomon all mountain skis, and sweet snowboards from Nitro, Salomon, Capita and Never Summer! Reserve in advance www.crestedbutteskirentals.com and save 20% on your rentals. Kids 12 & under save 50% with each paying adult. Bring your skis into our Montana tuning shop for a Crystal Glide Tune! Keep the whole family warm and stylish with outerwear from Kjus, Armada, Spyder, Holden, Obermeyer and much more! See why Butte & Co. was voted one of North America's top shops by Skiing Magazine. (970) 349-7581 or (800) 742-SKIS. Shop and rent LOCAL!!
CB South Fitness
CB South Fitness is a key card access gym in the Crested Butte South commercial district. Our fitness center has a variety of strength and cardio equipment, including a Peloton bike with access to thousands of amazing cycle classes! Members have daily access to the facility from 5 a.m. – 10 p.m. Memberships are available on a weekly, monthly & annual basis.  Punch cards are available as well.  Personal training services offered, if interested.  Locals, second homeowners, and visitors welcome. Call (970) 765-7009 with questions or visit www.CBSOUTHFITNESS.com for more information or to join online!
CBMBA Winter Trails
Whether you're fat biking, snowshoeing, cross-country skiing or walking, winter trails provide free opportunities for recreation for everyone (and their dog, too!). The Crested Butte Mountain Bike Association (CBMBA) grooms winter trails for the public in several locations: Gothic Road, Cement Creek Road, the base of Snodgrass Mountain and more when conditions allow. Winter trails offer you a chance to exercise, play, explore on a day off from the slopes or simply marvel at the snow-capped peaks surrounding CB. Keep up with winter trail conditions and reports via www.cbmba.org or follow us on Facebook for the latest events and updates.
Center for the Arts
The Center for the Arts is proud to open its doors to a brand new, reimagined arts facility that is home to a year-round schedule of programming in the culinary, performing, visual and literary arts. The Center includes art exhibitions, films, art classes for novices and experts alike, and welcomes inspirational traveling authors of all genres of literature. As the Western Slope's premier arts venue, the Center's spaces include the McCarter + Ogilvie Outdoor Stage facing Town Park; the 350-seat, cutting-edge Steddy Theater; and the Kinder Padon Gallery, showcasing local, regional and national visual arts exhibitions. In addition to our popular signature events, including Alpenglow, Tour de Forks and the Crested Butte Wine + Food Festival, the Center gratefully serves as a central events venue for local community organizations. Together, we bring the arts to the heart of Crested Butte. The Center also offers rental space for meetings, weddings or social gatherings in the King Community Room, the Jones Performance Hall or the third-floor Comiskey Terrace with panoramic views of Paradise Divide and Mt. Crested Butte. www.crestedbuttearts.org. (970) 349-7487.
Crested Butte Jewelry School
The Crested Butte Jewelry School offers fun and engaging jewelry classes in the heart of Crested Butte's Creative District as well as Online Silversmithing Courses. Our classes are designed for students with no experience to those who wish to build a business as an artist and designer. Our school is a safe and fun environment where students can express their creativity and learn skills to continue on their own. Silversmithing, Stone-setting, and Metalworking classes are taught by jeweler, Meaghan Young. We also have a five-day jewelry course designed for art and travel lovers in June. For our class descriptions and winter schedule, visit us at www.cbjewelryschool.com. We are located at 411 & 401 Third Street as part of Meaghan Young Jewelry Design, www.crestedbuttejewelry.com.
Crested Butte Library
The Crested Butte Library resides in the Old Rock building, a two-story, two-room schoolhouse, built in 1883. The beautiful Old Rock Community Library, a branch of the Gunnison County Library District, was open for business on June 22, 1993. Governor Roy Romer on September 21, 1993, dedicated the Old Rock Community Library, 110 years after the Old Rock was built. Today the Crested Butte Library provides modern library services and programs. We put on weekly and special events all year long. You can find out about these events from our online calendar at
www.gunnisoncountylibraries.org. We offer books, magazines, audio books, movies, maps and other items such as DVD players, chargers and more for you to check-out with your library card. We also offer free wi-fi, low cost printing and faxing, one-on-one tech help, test proctoring and much, much more. Library cards are available to residents and visitors alike, so come check us out!
Crested Butte Mountain Heritage Museum
The Crested Butte Mountain Heritage Museum's mission is to preserve, share and celebrate the history and traditions of Crested Butte and the Gunnison Valley. Through engaging educational and cultural experiences, the Museum connects people to the past, the place and each other. We are located in a historic 1883 building in downtown Crested Butte. Our exhibits change regularly and include the Folsom and Ute people, railroads, ranching, mining, mountain biking, 1970s counter culture and the world record Plute Elk rack. Visit our expanded Snowsports in the Gunnison Valley exhibit and learn about the 1886 ski races, the rebirth of telemarking, the X-Games, early snowboarding, gelande jumping and our local Olympians. We offer a variety of programming, including Historic Downtown and Themed Walking Tours and our virtual History at Home series. Visit the Museum Store to find unique gifts and souvenirs, artwork, home decor, jewelry, books, games and toys for the whole family! For more information visit our website at
www.crestedbuttemuseum.com, call us at (970) 349-1880 or stop by the Museum, located at 331 Elk Avenue.
Crested Butte/Mt. Crested Butte Chamber of Commerce Visitor Centers
Are you looking for information on what to do during your stay in the Crested Butte Area? With two winter locations, the Chamber of Commerce Visitor Centers are a great resource for information on shopping, dining and area activities. Our Crested Butte Visitor Center is located at the Four-Way Stop in Crested Butte (at the corner of 6th and Elk Ave) and is open 7 days a week from 9 a.m. – 5 p.m. Our Mt. Crested Butte Visitor Center is located in the Transit Center of Mountaineer Square and is staffed 7 days a week from 9 a.m.-5 p.m., with brochures accessible from 7 a.m.-11 p.m. You can give us a call at (855) 681-0941 or (970) 349-6438 or visit our website at www.cbchamber.com. We also have relocation and business information available. We look forward to seeing you soon.
Crested Butte Nordic
CB Nordic maintains 50 kilometers of world-class groomed trails for cross-country skiing and snowshoeing, accessible right from the town of Crested Butte. They offer ski and snowshoe rental packages, as well as lessons, clinics, backcountry tours and events. New for 2020: Reserve your trail pass, rental, or lesson online! More information can be found at www.cbnordic.org or by calling (970) 349-1707.
Elevation Spa
Come experience our world class, 12,000 square foot Elevation Spa and Fitness Center at the Elevation Hotel, located just steps away from the ski slopes. There are nine treatment rooms where we offer massage therapy for your muscles, body wraps for your wellness, and facials for a beautiful complexion. All spa services include use of our fitness center, which is equipped with cardio machines and strength training equipment, a swimming pool, three hot tubs, steam room, sauna and tranquility rooms. Upon check-in to the spa, you will be presented with robe, sandals and locker key to use during your stay. The Elevation Spa easily accommodates you, your friends and family as you indulge together in a day at the spa. After receiving your healing treatments, you will leave the Elevation Spa with the overall feeling of wellbeing that inspired you to visit the mountains in the first place. Take advantage of our complimentary parking during your spa visit or ride the free town bus to the base of the ski area and arrive just steps away from the Elevation Hotel. Please call (970) 251-3500 to make an appointment today or visit our website at www.elevationspa.com.
Rijks Family Gallery
Join us this season for the upcoming Art Walks on December 29, January 16, February 13 and March 19 to explore our gallery. Supporting Colorado artists for over 50 years, Rijks Family Gallery provides oil paintings, pottery, photography, woodblock and linocut prints, posters and custom framing. Can't make it here in person? We can show you an artist's work via FaceTime or email. We can also work with you from afar to find that perfect framing style to accentuate your piece and fit in your home. For more information, visit www.rijksgallery.com or call (970) 349-5289, located at 310 Second Street.
Radiant Mind Wellness Clinic
Treating anxiety, stress, fear, depression, emotional triggers and helping with personal growth through acupuncture. Tuesday and Fridays. Sliding scale $25-$45. www.Cb-wellness.com.
Synergy Athlete
Synergy Athlete, home of Crested Butte CrossFit, is the premier training facility in Crested Butte. We have a variety of classes from Pilates, cardioflex, CrossFit, youth and vitality class (55 and older). In addition to classes, we a have peloton available for reservation and open gym times to do your own things. Let our experienced coaches help you get fit, stay healthy and crushing it in the mountains. www.synergyathlete.com, carriejo@synergyathlete.com for more information.
Thrive Yoga
Thrive Yoga Crested Butte is a tribe of incredible yogis, movers and prana-preneurs committed to community, wellness and inclusivity through the principles of yoga. Daily offerings, both in studio and virtual, lend 12+ styles of movement to honor all bodies and souls. Our Wellness in Motion programming uplifts youth and teens while our tiniest yogis have weekly classes too! Our connection reaches far beyond the mat, applying the philosophies of yoga to everything…including our Thrive Boutique! We carry amazing Lululemon, Spiritual Gangster, Hugger Mugger and Manduka, along with fair trade Matr Boomie goods and the local love of ONE TRIBE, Damselfly and Scout Designs. Be sure to check us out at 326 Elk Avenue. (970) 349-0302. www.thriveyogacrestedbutte.com, Be well!
The Trailhead Children's Museum
Explore! Create! Play! Learn! The Trailhead Children's Museum is currently offering amazing art education programs for kids. From studio painting workshops to printmaking to jewelry creation, kids' creativity blossoms at the Trailhead art classes held at the new Center for the Arts. Classes continue to run but the museum space is not currently open due to Covid-19 protocol. Watch for special family events, holiday camps and winter drop-off programs. For more information please contact The Trailhead at (970) 349-7160 or visit our website at www.trailheadkids.org.
Wah-Sha Academy
We are an independent school offering affordable childcare during winter vacation. Located in Crested Butte South. CBCS students receive a discount. Call for more information and to enroll. (970) 251-5439. www.Wahsha.com.
WildFlower Spa
Conveniently located in the Grand Lodge, the Wildflower Spa offers massage treatments. Schedule a treatment today and enjoy a naturally relaxing and healing spa experience. The Wildflower Spa offers a calm environment with four treatment rooms where we offer massages. We also have a couples room for side by side treatments. Each treatment is tailored to meet your needs, whether your goal is to relax, feel more beautiful, or find relief from aches and pains. Complimentary use of the steam room, pool and hot tub is included with any spa treatment. Please visit our website at www.thewildflowerspa.com to see our menu of services or call (970) 349-8063 for more information or to schedule an appointment.