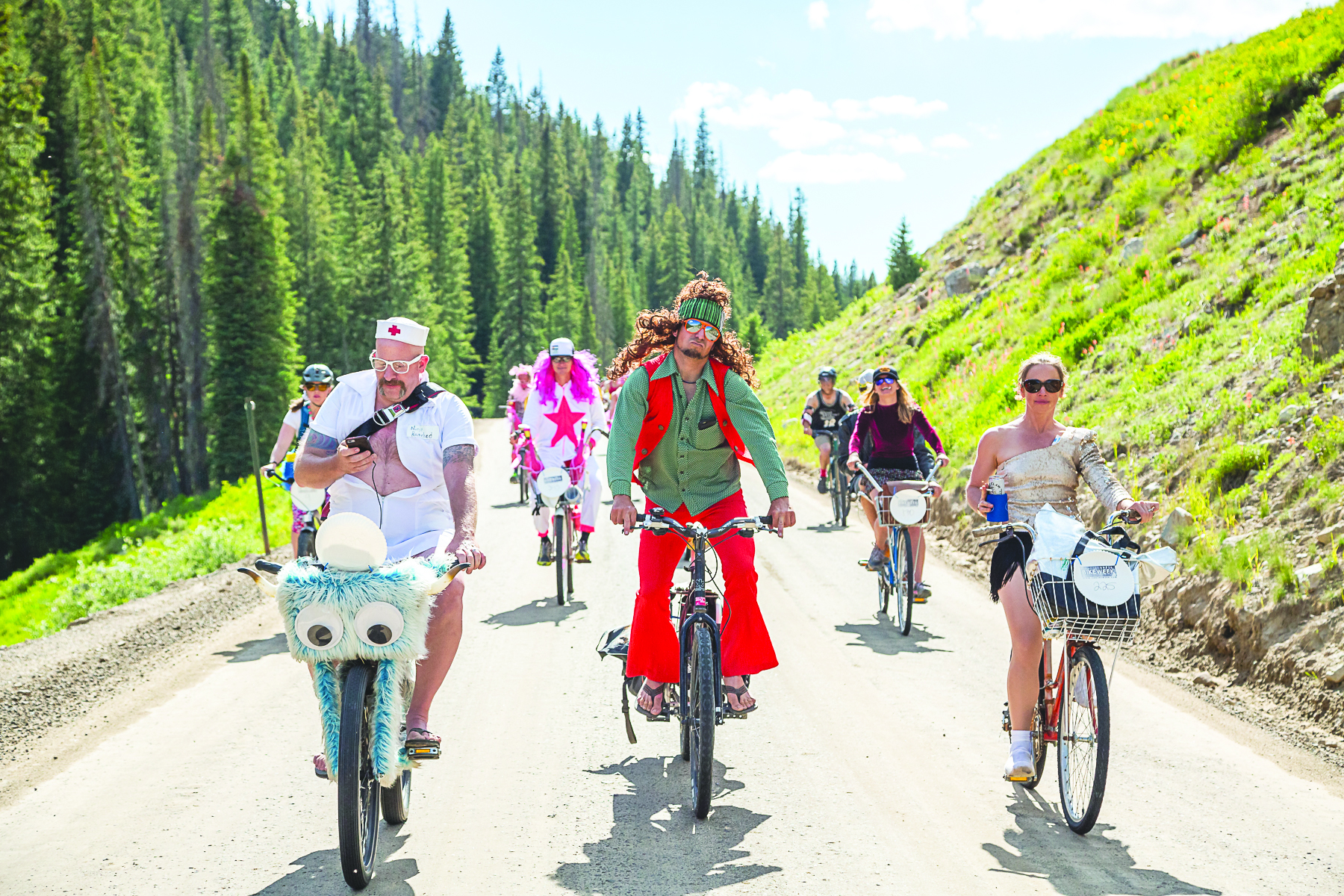 Stats:

1637

0

Posted:

July 1, 2019

Category:

What To Do
Biking events
Spend a week in Crested Butte, and it doesn't take long to realize that Buttians love bikes, from townies to mountain bikes and everything in between. It's in the gene pool—during the 1970s, locals retrofitted old Schwinn paperboy bikes with multiple gears and became some of the first to experiment with mountain biking.
Today, Crested Butte is one of only a handful of communities in Colorado to have the prestigious gold designation from the League of American Bicyclists. It's a well-deserved honor. Crested Butte and the Gunnison Valley are home to more than 750 miles of mostly singletrack trails and a jam-packed calendar of summer biking events.
Crested Butte Bike Week – June 27 – 30
Whether you're looking to cruise down Kebler on a townie, mash singletrack miles on your cross-country bike, or experience the joy of lift served downhill at Evolution Bike Park the world's oldest mountain bike festival has you covered. A kickoff to summer, events include the infamous Chainless Downhill Race, guided rides, a strider cup & slow race, and Bridges of the Butte. There's something for every rider!
Bridges of the Butte – June 29-30
The 15th Annual Bridges of the Butte 24-hour townie tour is a local favorite. As many as 300 riders take to the streets from noon on Saturday to noon on Sunday. They ride as individuals or teams to raise money for the Adaptive Sports Center, and yes, many ride through the night.
Pinnacle Bike Race Series – June 21-July 19
This Wednesday-evening race series offers free recreational mountain bike racing at Crested Butte Mountain Resort's Evolution Bike Park. The races vary in length and difficulty to challenge riders of all abilities in either cross-country or downhill disciplines—great for beginning to expert riders. Competitors enjoy an awards party after each race with free food, a cold LandShark Lager or Coca-Cola, and raffle prizes at Butte 66. Pump Track lap races geared towards ages 6 and under will also be held at the pump track in the Base Area.
Outerbike – August 16-18
Western Spirit Cycling has partnered with Crested Butte Mountain Resort to bring the "Best Bike Demo in the Universe" to one of the birthplaces of the sport. The Evolution Bike Park is a great place to demo the latest bikes, with lift-served rides and an amazing network of trails. With three different package levels there is just the right amount of fun for everyone.
Adaptive World Championships – August 23-25
The Adaptive Sports Center presents their annual Adaptive Mountain Biking Races for a weekend full of inclusion and friendly competition. Multiple disciplines offer an opportunity for everyone to participate! Visit www.adaptivesports.org for more information.
Grand Traverse Mountain Run & Bike – August 31-September 1
The Grand Traverse Mountain Run is a point-to-point ultra marathon from Crested Butte to Aspen. The course follows the route of the Grand Traverse Backcountry Ski race, covering 40 miles and over 6,000′ of elevation gain. The Grand Traverse Mountain Bike takes place the next day, a point-to-point from Aspen to Crested Butte. Neither one is for the feint of heart, but those willing and able can sign up for one or both.
Pearl Pass Mountain Bike Tour – September 14-15
Going for 43 years strong, this burly tour is the oldest mountain bike event in the world. Mountain bikers ride from Crested Butte to Aspen via the 12,705-foot high Pearl Pass. As the story goes, it all started in 1976, when Aspenites rode motorcycles to Crested Butte via the same route, parked downtown and set out to meet local women. Crested Butte responded by doing the same thing in reverse—by mountain bike. Of course, the tradition had to continue.